For investment-backed, high-growth, pre-IPO companies, TripleWin serves as a partner and strategic resource on sustainability topics, issues, policies and initiatives.
Executive Leadership Knowledge-Building
TripleWin counsels leadership teams and Chief Sustainability, ESG and Impact Officers on the value that markets and stakeholders place on corporate sustainability and the baseline requirements needed to be taken seriously and to avoid reputational damage.
Chart a Sustainability Journey as Unique as Your Company
TripleWin kicks off the project with a listening session focused on understanding the portfolio company's strategic business goals. Through continued conversation, TripleWin integrates those goals into a bespoke sustainability journey that aligns the company's most pressing financial, growth and innovation goals with sustainability objectives and initiatives that enhance their brand positioning, product/service offerings, and desired differentiation in the marketplace.
Consulting Services that Move You Forward
TripleWin's ongoing advising consultations often lead to strategic consulting work where we are asked to initiate and complete one or more sustainability initiatives for portfolio companies. These typically range the gamut of traditional consulting services TripleWin provides to clients.
Consulting
Jumpstart your company's sustainability journey and make it count. Learn about the tools we apply to organizations to ensure that their sustainability efforts are material, prioritized, and value-creating.
Carbon Toolkit & ESG Metrics Demo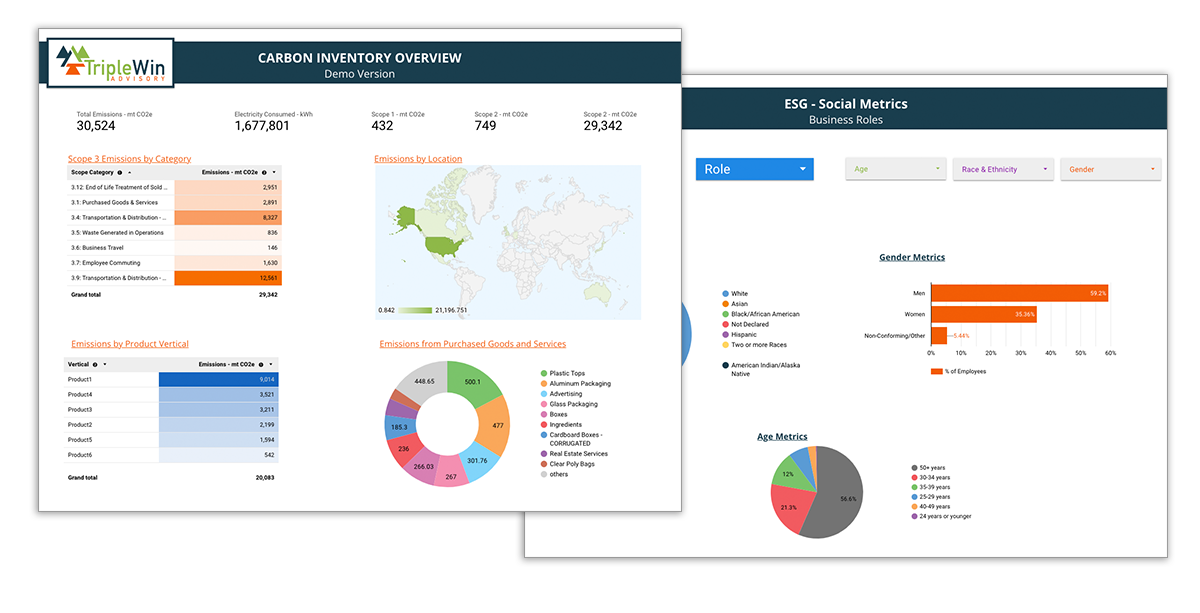 We deliver robust carbon management toolkits to guide clients' future carbon accounting efforts. 
Our data dashboards which act as real-time business tools that allows companies to track, measure and communicate their key ESG efforts with clarity and ease.
Boards
Boards need to know what is material to the corporations they oversee, how well management is mitigating climate risks and attendant reputational damage, and how to provide effective oversight of strategic sustainability initiatives. TripleWin delivers incisive presentations and advice to boards and directors on a wide range of ESG topics.
Investment Firms
TripleWin partners with global investment firms to advise on industry and sustainability trends, inform on proposed and impending climate legislation, work with investment teams to guide their sustainability due diligence, and run educational seminars and workshops to address timely ESG and climate change issues pertinent to their investments.
Business Transformation
TripleWin applies the tools of MIT's Presencing Institute to engage corporations and executive management teams in a journey of business awareness around systemic failures and economic externalities driving climate change. We facilitate wholly new thought patterns and help birth beta ideas intended to transform the system of how businesses operate, manufacture, and manage their products and materials. Learn how the Theory U Framework can catalyze change in your organization.