TripleWin serves as a strategic partner to investment firms seeking to embed a sustainability agenda within and across their portfolio companies.
Stay Ahead of Regional Sustainability Trends & Climate Legislation
Corporate sustainability, ESG and impact disclosures are ever-evolving and becoming more rigorous by the day. TripleWin informs investment partners on the critical, need-to-know evolutions and concerns unique to the regions in which their companies operate.
Investment Learning Sessions
Investment teams need to understand the language of ESG and adopt the mindset of impact investors. TripleWin facilitates learning sessions on the material ESG issues portfolio companies and targets are facing and should be addressing. These learnings guide the research and decision-making of investment teams.
Educational Curriculum for Portfolio Leaders
TripleWin's investment firm partners seek to influence the adoption of sustainability practices at their portfolio companies. TripleWin builds and delivers curriculums on relevant corporate sustainability topics targeted for key executive leaders (e.g., CSO, CMO, CPO, CSCO, CFO, Head of IR) within investment firm's portfolio companies. These educational opportunities are relevant-content deep-dives that allow knowledge building and content sharing across portfolios and industries.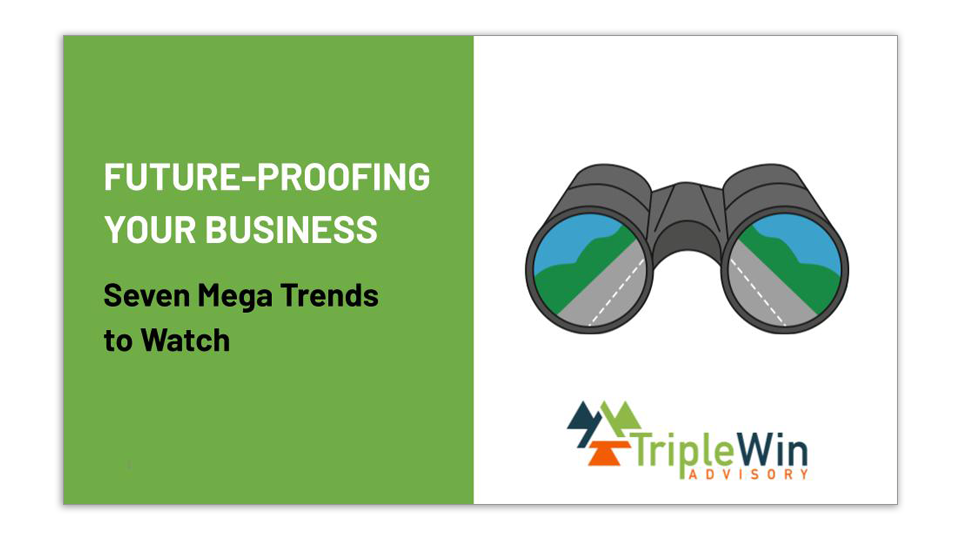 TripleWin works with companies to present key sustainability trends that are most relevant to their operations and business models.
Boards
Boards need to know what is material to the corporations they oversee, how well management is mitigating climate risks and attendant reputational damage, and how to provide effective oversight of strategic sustainability initiatives. TripleWin delivers incisive presentations and advice to boards and directors on a wide range of ESG topics.
Portfolio Companies
For VC- and PE-backed, high-growth and pre-IPO companies, TripleWin serves as a partner and strategic resource for progressing and showcasing their commitments to corporate sustainability through topics, policies and initiatives that are business-aligned, strategic and value-adding.
Business Transformation
TripleWin applies the tools of MIT's Presencing Institute to engage corporations and executive management teams in a journey of business awareness around systemic failures and economic externalities driving climate change. We facilitate wholly new thought patterns and help birth beta ideas intended to transform the system of how businesses operate, manufacture, and manage their products and materials. Learn how the Theory U Framework can catalyze change in your organization.