How the Sustainability Roadmap Gave StockX Clearer Vision
StockX came to TripleWin Advisory with the following sustainability goals:
Quantify their environmental impact and develop a reduction strategy
Craft a sustainability action plan that ties initiatives to growth objectives
Communicate the value of their commerce business model to key stakeholders
Activate a sustainability mindset across their global operations
TripleWin proposed developing a Sustainability Roadmap that unites these seemingly discrete goals into a single, cohesive strategy.
The TripleWin Sustainability Roadmap is a comprehensive, enterprise-wide action plan built from two key sources of information: a carbon inventory and a materiality assessment.
Having completed the carbon inventory, TripleWin kicked off a four-month-long materiality assessment for StockX. A materiality assessment is an incisive, strategic tool for uncovering the most relevant and pressing (i.e., "material") ESG topics for both the company and their stakeholders.
The assessment process began with identifying key stakeholder groups and collecting feedback through learning journeys, one-on-one interviews and surveys. It culminated in a materiality map — a two-dimensional ranking of ESG topics by their relative importance to both internal and external stakeholders. This map allowed StockX's executive leaders to quickly identify their highest-priority concerns and decide on the most impactful initiatives.
TripleWin then integrated the insights from the carbon inventory and materiality assessment into a three-to-five-year sustainability roadmap.
The stakeholder learning journeys revealed that StockX employees and customers care deeply about sustainability and want the company to level up their environmental and social initiatives. Engaging stakeholders on these topics jump-started the conversation on how to articulate StockX's purpose as a company. It also served to more deeply embed the company's moral compass within its organizational culture.
StockX saw a dual benefit to having TripleWin develop its sustainability roadmap. The first was clarity: defining sustainability focus areas to prioritize, setting performance targets and goals, and defining KPIs for measuring progress. The second was communicative: a detailed strategy that articulated StockX's sustainability priorities for the investment community and differentiated their initiatives from those of competitors. Both held potential for significantly raising the company's standing within the ESG space.
StockX is a marketplace for the rarest and most coveted branded consumer products — from Nike Air Jordan sneakers and Rolex watches to Star Wars collectibles. The company matches sellers and buyers anonymously and authenticates all platform purchases at authentication centers strategically placed across the globe.
Headquarters:
Detroit, Michigan
Industry:
Consumer Goods
Main Product:
Reselling branded consumer products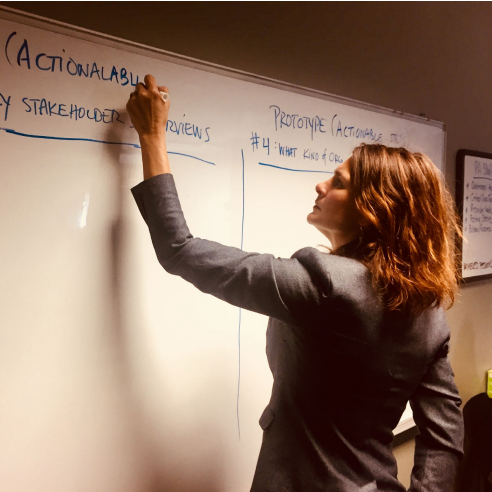 TripleWin facilitated the Theory U framework over several weeks to help our team manifest and more clearly define the mission, vision and goals for Inspired Abilities, an innovative community work model for individuals on the spectrum. The process, utilizing physical and corporal elements, was a completely new experience, very creative and opened new conceptual pathways we would not have explored in a traditional way.