Deciphering Corporate Sustainability Acronyms
The sustainability world places a heavy reliance on the use of acronyms. And the field of acronyms seems to grow by the year. In order to keep our heads straight around the standards, frameworks, guidelines, disclosures and indices that encompass sustainability and the organizations they represent, we've made a list below (in alphabetical order) of each and their meaning, intended purpose and the value they bring to bear on corporate sustainability efforts. We promise not to quiz you. Let us know if we missed an acronym that absolutely should be included in our tally. Sustainability acronyms are sneaky that way: as the business imperative increases and greater opportunities are uncovered around climate change mitigation, the universe grows.
Here's the list:
BIA = B Impact Assessment.
It is the sustainability reporting tool of B Labs, a certifying body that publicly rates a company's sustainability performance across various impact areas. Although it would make sense to have the "B" stand for "Business", it doesn't. Instead, it serves as a brand amplifier of the organization's name. B Lab is a non-profit that supports adoption of a broader set of values to guide for-profit companies. These values equate to sustainability goals that support not just profit-making but also societal well-being and environmental stewardship. The BIA tool allows B Lab to make companies' sustainability measures more transparent in the marketplace. The value of BIA is that is forces registered organizations to go through the process of making transparent their sustainability efforts and to improve on those measures over time.
CDP = Carbon Disclosure Project.
This organization used to be known by its full name but currently is known by its acronym. CDP is an international sustainability disclosure body for companies as well as other entities such as investors, cities, states and regions. The CDP is focused on persuading entities to disclose their sustainability goals, particularly around greenhouse gas (GHG) emissions reduction efforts in support of global climate change mitigation. The value of CDP is in its disclosure policy: it seeks for companies to set meaningful GHG emissions reduction targets and then compiles that data across regions and sectors to report on trends toward that goal.
DJSI = Dow Jones Sustainability Indices.
The various indices are a collaboration with S&P Dow Jones and RobecoSAM. It is a set of global best-in-class financial benchmarks that rate, group and class companies that have submitted to their rigorous questionnaire process. The companies that are picked to be included in the DJSI are recognized for their commitment to business sustainability, goals in support of climate change mitigation, and sustained long-term value creation for their shareholders, and rewarded with like-minded investors and capital investments. The DJSI is part of a family of financial benchmark indices including the S&P 500 ESG Index, the S&P Fossil Fuel Free Index and the ESG Factor Indices. The DJSI provides value only for publicly-traded companies by increasing their access to sustainable capital while serving to promote the companies chosen as true exemplars in their particular industries.
GRI = Global Reporting Initiative.
GRI is the global standard for sustainability reporting by companies, mostly public but increasingly, for companies of all sizes and types. The GRI standard allows reporting companies to standardize their disclosures and approach to reporting within industry and across sectors to allow for in- and out- of industry sustainability comparison, transparency, and ease of data accessibility for key stakeholders.
ISO 26000: 2010 = International Organization for Standardization Guidance on Social Responsibility.
ISO is an independent, non-governmental international membership body consisting of "national standards" or standard organizations within nation-states. There can be only one standard body from each country as a member. No individual or company can be a member. ISO 26000 provides guidance for all types and sizes of organizations and is intended to persuade companies to go beyond any legal compliance around social responsibility and to take a more proactive stance toward creating social good within their daily operations. ISO 26000 supports the following UN SDGs: 1-16.
ISO 14001: 2015 = International Organization for Standardization Environmental Management Systems.
ISO 140001 specifies the requirements of a company's environmental management system, which helps perform, track, and report life cycle assessments of product impacts on the environment through the value chain. ISA 14001 is usually adopted by multi-national product manufacturers that operate a global supply chain, which are subject to a diverse set of regulations around labor, the environment and manufacturing practices.
SASB = Sustainability Accounting Standards Board.
SASB was initially created to sit alongside FASB (Financial Accounting Standards Board) that establishes and updates the GAAP principles for public-company financial disclosures to the market. SASB was intended to create "sustainability standards" for market disclosure of material (relevant and business affecting) ESG (environmental, social and governance) impacts that would be included with corporate filings to the SEC. SASB's Materiality Map matrix is the truly valuable gem. Companies that are just beginning their sustainability reporting would be wise to consult SASB's Materiality Map, which identifies by industry and sector, what issues are likely to be considered important under five broad reporting categories including: Environment, Social Capital, Human Capital, Business Model & Innovation and Leadership & Governance.
SBTi = Science-based Targets Initiative.
The organization in collaboration with CDP, the UN Global Compact, World Resources Institute (WRI) and the World Wide Fund for Nature (WWF), seeks to set a business practice standard for defining corporate carbon footprint goals that are in-line with the climate change targets of the Paris Climate Accord. The SBTi educates companies on how to set a science-based target (2oC or less), verifies and approves corporate GHG emissions reductions targets. The value of SBTi is it compels companies to set GHG performance targets that are aligned with the Paris Climate Accord's goal of climate change mitigation.
TCFD = Task Force on Climate-Related Financial Disclosures.
Yes, it's a mouthful and increasingly, relevant to corporate reporting of sustainability performance goals. TCFD asks companies to consider the physical, liability and transition risks associated with climate change to their business and stakeholders and then to make financial disclosures of those risks. TCFD formed an alliance with CDP in 2018. In so doing, part of CDP's criteria for rating disclosing companies' efforts to mitigate their GHG emissions in their operations is to have those businesses report on how they are addressing climate change risks and embedding risk mitigation as well as scenario planning into their strategic business decision-making. The growing value of TCFD's framework is that it allows companies to articulate their long-term business goals framed by climate change impacts foreseen and anticipated.
UN SDGs = United Nations Sustainable Development Goals.
The UN SDGs (a.k.a. the UN Global Compact) are 17 goals that all 193 member states of the United Nations adopted in support of eliminating/eradicating poverty, inequality and injustice, and tackling climate change. These goals define a roadmap, of sorts, for businesses and nations to achieve "sustainable development" by the year 2030. The 17 SDGs are listed below: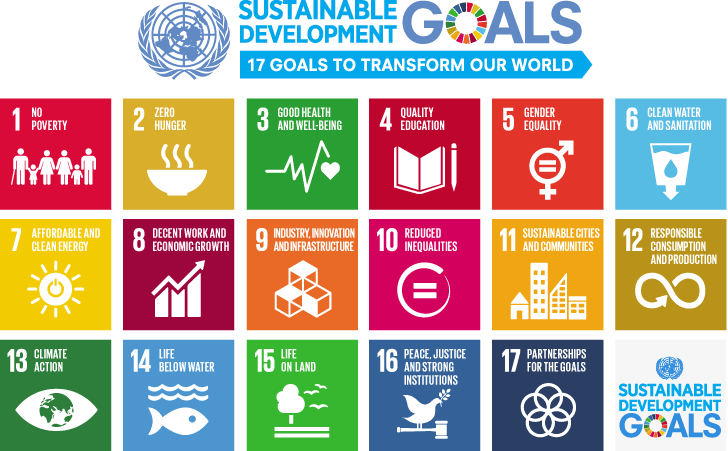 The UN Global Compact asks companies to operate sustainably AND to pursue additional opportunities, as laid out in the SDGs, to solve societal challenges through business innovation and collaboration.
Business Takeaway
Which tool is best to employ for your organization?
The answer depends on your company's strategic sustainability objectives. Below is a graphical representation of the 'sustainable toolkit' universe organizations can employ in their corporate sustainability efforts. Each sustainability 'tool' is mapped on an X/Y axis that delineates commitment to sustainability against the level of transparency and integration of measures into a company's strategic goals. Commitment to sustainability necessarily entails taking a multi-stakeholder approach to value creation which is highly correlated with increasing levels of transparency of an organization's business practices, which in turn, further drives strategic decision-making for the benefit of those stakeholders a company seeks to serve.
TripleWin Advisory develops sustainable business cases and supports strategic decision-making through value-chain mapping and Scope 3 inventories of companies' greenhouse gas emissions. In so doing, it unlocks opportunities for greater profitability, relevancy, and longevity for businesses. Learn more.