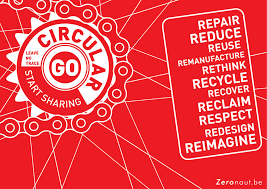 The Idea Behind Remanufacture
Remanufacture is a bit of a misnomer.  Remanufacturer is a term for the manufacturing industry focused on the production of hard and large durable goods in which an old product is made nearly new again, to be reused as if it were new.  Remanufacturer also means rebuilding a product or piece of machinery so that it works like new, albeit made up of both new and old parts.  When this author talks about remanufacturing, it is in the context of an individual consumer to focus on leasing versus buying a product, machine or technology, whether durable or soft goods.  This economic paradigm shift has been called many names.  A popular moniker is the 'Shared Economy' where one buys, borrows or barters for goods and services.  The concept of consumer remanufacturing is a little different.  The idea is to embrace more of a service-based economy without negating the need for the manufacture of goods.
A Service versus Make Mentality
Traditionally, a capitalist-based economy is one where new goods are produced to ultimately be bought and consumed.  In this economy that we know well, we all individually, buy what we need and want, irrespective of how much a product, particularly, is utilized by any one individual.  A good example would a lawn-mower.  A person living in a region that experiences four seasons, may utilize a lawn-mower say, once a week for six months out of a year for a total of 26 times annually.  Or a person living in a more Northern region with a very short spring, summer and fall and long winter, may use a lawn-mower weekly for three months out of a year for a total of 13 times annually.  What about the use of an electric drill by an average home owner?  If someone has just moved into a new home, maybe that electric drill is used intensely for a two- to four-month period.  But on average, an electric drill owned by a typical person may be only utilized once or twice in any given year.
For Individuals, Remanufacture Means Leasing versus Buying Products
A service-based manufacturing economy that embraces a leasing versus buying mentality, is one where both hard and soft goods are produced and then lent out to you by others, ideally, many individual others.   This is not a lease-to-buy paradigm.  It is the idea of leasing in lieu of purchasing, either immediately or at some point down the road.  The idea is that manufacturers produce and then lease without an end-goal of a purchase, a range of consumer goods.  The concept is best exemplified with manufactured hard goods but there are exceptions to that rule with soft goods.  Think about needing a hardwood floor sander. Instead of buying one, you can go down to your local hardware store and rent one for a day or week.  A carpet steamer or upholstery cleaner can be leased versus owned.  Same goes for a weed-wacker or a chain-saw to tame one's lawn or backyard.  There are two sustainable benefits to this service-based economic model.  First, fewer hard goods need to be produced to drive economic activity.  The shared products are put to better, more productive and voluminous use over their life-span.  Instead of sitting on a garage shelf for most of a year (or more), a house tool is in continuous use and can be both serviced and replaced more easily by one owner (e.g., a hardware store).  Second, the lessor of the durable goods is able to make money from both the sale of goods and on the lease of the goods.  One can refer to this business model as a "diversification of revenue streams".  Either way, there is no economic disadvantage to a service-based economic model.
Yes, Leasing Applies to Both Hard- and Soft-Goods
Soft goods can also be service-oriented.  The best example of this is the carpet manufacturer Interface. The company was the first to innovate the way carpet is installed and purchased.  Interface is globally known for their modular carpets where square and rectangle pieces can easily be removed and replaced without the need to strip the entire floor carpeting out.  They create carpets from recycled materials and the modular replacements can be recycled into new future products.  Lastly, Interface pioneered the idea of leasing carpet installation.  Interface's leasing model is called Evergreen LeaseTM.  In effect, they always own the carpet they install and through monthly and/or annual payments they insure that an installed carpet is maintained, cleaned and ultimately replaced when needed.  A customer pays for "keeping a space carpeted"[1].
Lease Options of Hard Goods by Retailers
This leasing versus buying mentality is increasingly more prevalent, more normal business practice, and fundamentally, makes broader economic sense:  for manufacturers, retailers and more specifically, for individuals.  Many more national and regional companies like Home Depot and Lowe's Hardware lease out durable goods to customers.  Home Depot's 'Truck & Tool Rentals' include a long list of items to be leased including:
Various size trucks
Augers
Concrete Tools
Compactors
Demolition Tools
Drain Cleaners and Plumbing Tools
Floor Cleaners, Care and Refinishers
Generators
Air Conditioners and Heaters
Insulation Equipment
Backhoes and other Earth movers
Lawn & Garden Equipment
Moving & Lifting Equipment
Air Compressors & Nail Guns
Power Tools
Pressure Washers
Tile Saws
Wall & Painting Tools
Lease options for personal automobiles has been a standard industry practice for decades.  But the transportation sector is taking that to the next level with hourly and daily car and bike rentals, generically called auto- (think:  Zipcar) and bike-sharing systems.  Think about a future where new houses built will not include an attached or separated garage.  Individuals will no longer have the need to "purchase" empty automobile storage space with their homes.
Lease Options of Soft Goods by Manufacturers
Other good examples of soft-good manufacturers that are leaning towards this idea of a service-based economy are companies like Patagonia and Denham the Jeanmaker.  Patagonia encourages its customers to seek repair of their apparel and outdoor accessories at one of their repair services, for a fee, instead of purchasing a new item.  Denham the Jeanmaker company (www.denhamthejeanmaker.com) based out of Amsterdam, the Netherlands, actively promotes repair of customer jeans, whether they are Denham jeans or other brands, through its Repair Retail Stores, again, all for a (service) fee.
The Benefits of Remanufacture to Individuals
The embrace of a consumer remanufacture economic mentality has a multitude of benefits from:
Avoiding the purchase of rarely used durable goods
Side-stepping the specter of planned product obsolescence
Saving on large expenditures by buying when 'use as needed' rather than when 'purchase is necessary'
Reducing the need to think about recycling and waste management by transferring the burden onto the manufacturer or third-party distributor, who better knows how to recycle/remanufacturer and has truer (revenue) incentive to do so.
[1] Interface Global.  (1995).  Evergreen LeaseTM.  Retrieved from http://www.interfaceglobal.com/Innovations/1995-Evergreen.aspx
[print_link]