To Transform How Business Operates.
Business transformation requires a shift in perspective: from maximization to optimization, from shareholders to stakeholders, and from linear to circular production.
TripleWin Advisory and the Triple Bottom Line
TripleWin Advisory is a direct play off the business sustainability framework, The Triple Bottom Line. Business cannot operate with a zero-sum mindset. Its value is dependent upon a broader system.
TripleWin Advisory develops sustainable business strategies that articulate the long-term value, competitive advantage, cost savings and revenue opportunities that come from embedding sustainability strategically. 
A well-planned corporate sustainability strategy can impart the following to your business:
Provide greater access to capital
Develop more efficient operations
Increase long-term competitive advantage
Mitigate risk of scandal and negative publicity
Increase consumer brand loyalty
Deepen employee work satisfaction
Decrease employee turnover rates
Where is your Company in Its Sustainability Journey?
As a business, we all start somewhere on the sustainability spectrum. We often begin with outward facing, community-supporting work and move along to capturing ad hoc sustainability projects through our voluntary sustainability reporting. Somewhere in-and-around this time, companies begin to pursue energy efficiency and waste reduction measures within their place-of-business. It is when businesses begin to look at efficiency, optimization and business innovation measures along their value chains, both upstream and downstream, the necessity for developing an integrated and strategically-aligned business case for sustainability implementation is critical.
At Which Scale does Your Corporate Sustainability Measures Reside?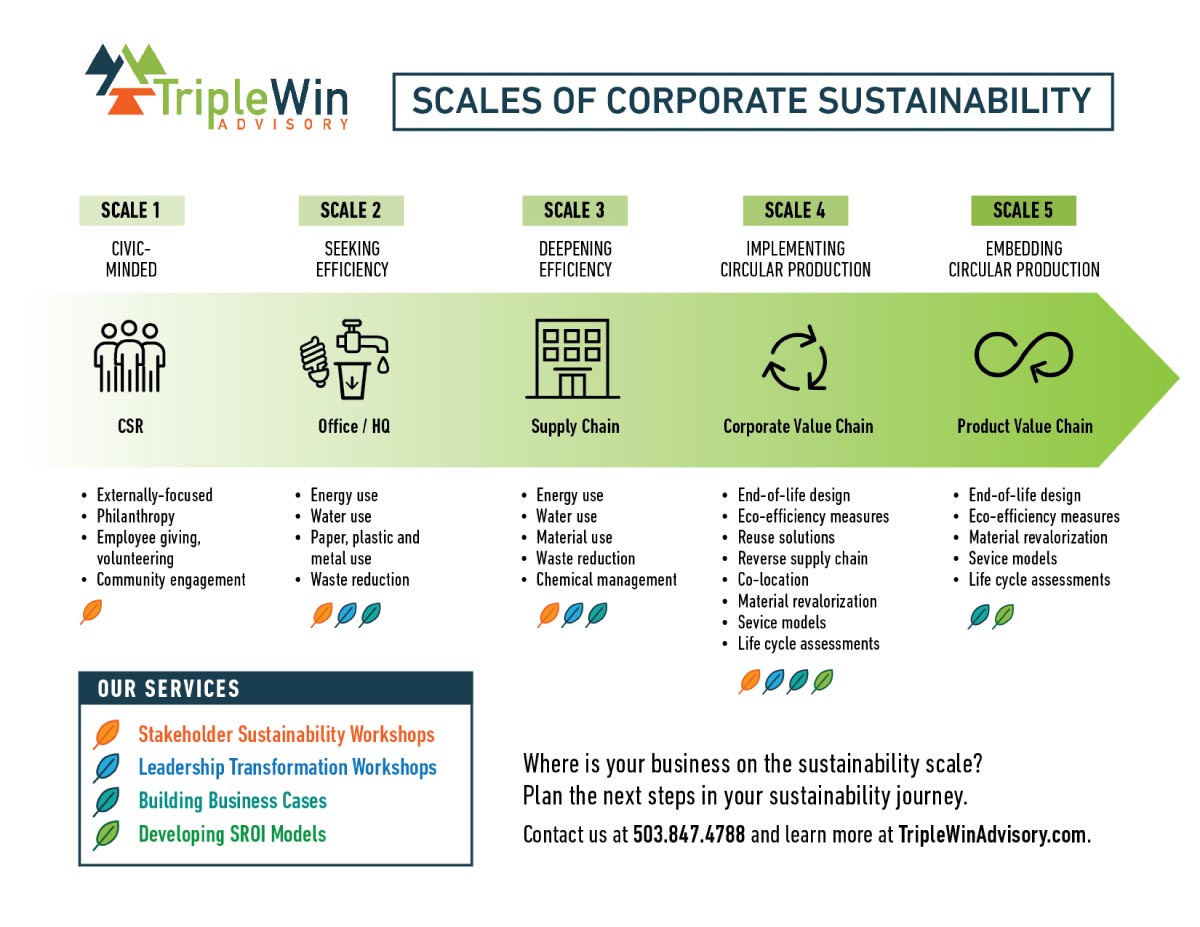 Harness the power of corporate sustainability, at any scale, to transform your business operations to be competitively viable for the long-term.