Profound Business Change Requires Transformational Thought-Leadership.
Multi-day Workshops Support New Operational Thinking Among All Levels of Business Leadership 
TripleWin Advisory applies the Theory U Framework methodologies of MIT's Presencing Institute to support corporate leadership in visualizing how their company's business operations can be sustainably transformed.
In order for industry leaders to effect transformational change in how their businesses operate today and move to a place where business decisions are conducted first-and-only through a sustainability lens, TripleWin Advisory offers an unconventional yet profoundly enlightening set of methodologies that allow business leaders to see the system in which they operate today, understand how the current system and way of doing business lacks longevity, and offer a framework to practically chart a more sustainable course forward.  This deep transformational work is conducted in groups with all levels of leaders within an organization.  TripleWin Advisory offers 1-2 day workshops to present concepts and experiential learning that begin a transformational business exploration that can take anywhere between 9 months to two years to fully express itself at an organizational level.
Some background on the methodologies and frameworks that are integrated into TripleWin Advisory's facilitated leadership workshops. 
The Theory U Framework is a framework for seeing, sensing and prototyping necessary business change in a world increasingly disrupted by climate change impacts affecting how companies' operate, economies perform, the productivity and resiliency of communities.
THE THEORY U FRAMEWORK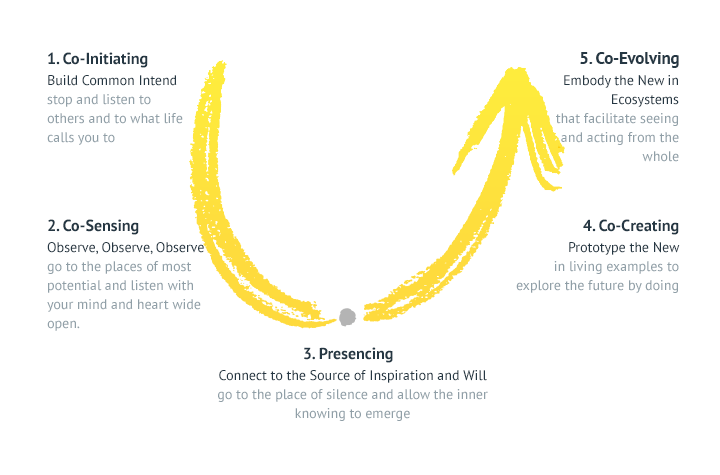 Social Presencing Theater
Social Presencing Theater (SPT) is a methodology developed to more deeply understand current reality and to explore emerging future possibilities.  SPT practices and tools can be practiced at the individual, group, and organizational levels. It is considered to be one of the most important and effective methods developed by MIT's The Presencing Institute for seeing the system in which an organization operates and identifying areas of un-sustainability.  SPT has been used effectively for more than ten years in industry, nationally with governments, and in civil society settings.  SPT is not "theater" in the conventional sense, but a set of tools that help to access intuition and to make visible both current reality, and the deeper – often invisible – leverage points for creating profound change in businesses, industries, societies and economies.
TripleWin Advisory brings 20 years of experience from the corporate and entrepreneurial realms and the latest training in industrial ecology, systems-thinking and transformational leadership to help companies embed sustainability within their strategic business goals.
Sustainable Organizations are Enabled Bodies Guided by the Minds of Leadership That Envision A Better Future.